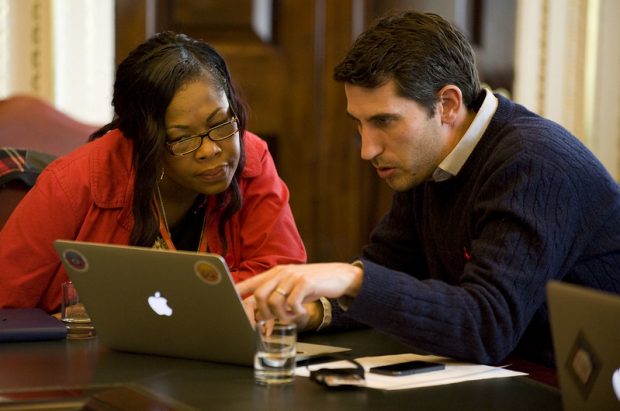 We are excited to be launching our very own Going Forward into Employment blog!

We aim to use this blog to share with you the great work happening all across the civil service.

We want to share our progress, successes, challenges and opinions from the work and engage our readers in what's happening to make the civil service a more diverse and inclusive workforce by providing opportunities to improve social mobility and life chances to those within the societies we serve.
What is Going Forward into Employment?
Going Forward into Employment (GFiE) is a scheme accredited by the Civil Service Commission (CSC), which allows us to provide life chance opportunities within the civil service to individuals under an exception to the recruitment principles. You can read more about the exception, what it means, and how you could use it in our next blog!
Under GFIE, we currently work with departments to highlight real roles, which we then fill with ex-offenders, veterans or spouses of veterans through a specialised recruitment approach. This helps to increase the diversity and inclusiveness of our workforce and helps it represent the communities we serve across the UK.  It helps us to build and support our vision to be a truly brilliant civil service.
There are also currently 13 schemes in operation across the civil service, and over the coming months we will take a look at all of these.
What's our vision?
In 2020 you can use these blogs to see our vision come to life, as we move to a place where GFiE becomes the umbrella for all our life chance schemes to operate under.
We aim to try and get to a place where departments use the schemes to fill at least 1-2% (500-1000) civil service roles each year.
Why is it important?
Peter Lawrence OBE, Director of GFiE, explains:
The commission is aiming to change the playing field so that people with barriers in their life can overcome the hurdles that the Civil Service has previously put up for recruitment. By developing an exception to the legislative requirement that then allows a department to ask the Commission to consider accrediting a program that allows the department to work with ex-offenders or veterans to bring them into the civil service through a different route.
Departments can then employ individuals for a period of up to 2 years on a fixed-term appointment, which does several things:
gives a real enhancement to someone's CV;
provides an individual with additional experience and at the same time helps them understand how the recruitment process works so they can start to apply for other civil service jobs advertised externally; and
allows somebody on one of these schemes, at the more junior grades, to be made permanent, if after twelve months they've demonstrated that they can meet the normal performance criteria within the annual performance appraisals
This is just the start of the journey and I hope through these blogs we can help engage with you and showcase the benefits of such schemes for not just the individuals but for the civil service also.
If you would like to discuss using one of these schemes for any vacancies that you have coming up, please do get in touch.
Please subscribe and share to help raise awareness of this work and keep watching as we help build understanding of the approach and scheme in coming weeks.